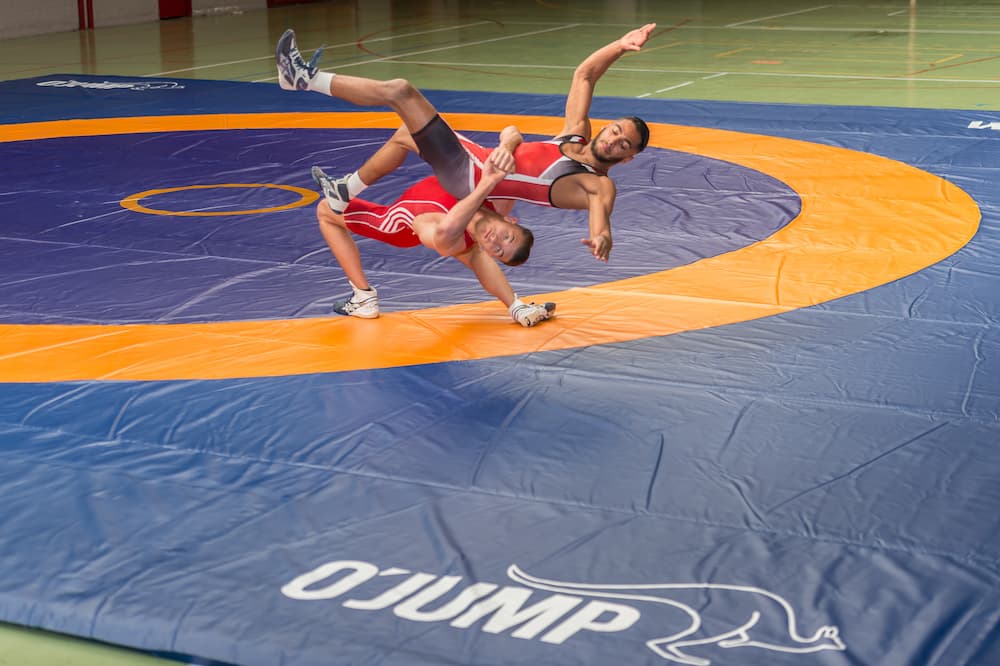 Wrestling Mats
WRESTLING
Wrestling is an unarmed combat sport where the opponents grapple bare-handed. Many styles of wrestling exist but the three most commonly practised are Freestyle Wrestling, Greco-Roman Wrestling and Female Wrestling.
WRESTLING IN SCHOOLS & COLLEGES WITH O'JUMP
Wrestling is commonly practised in schools and colleges and O'JUMP offers a wide range of wrestling mats specifically for physical education & sport use. So that you can create versatile areas for getting started in wrestling, O'JUMP has developed college wrestling mats with a single-surface or reversible cover. The school wrestling mat with single-surface cover is designed for teaching young people how to wrestle. The wrestling mat with reversible cover provides both a dedicated wrestling surface and a specific surface for judo: a "two-in-one" mat for multi-discipline training sessions.
Consisting of roll-up or folding foam tracks, O'JUMP wrestling mats are suitable for all requirements. Our school wrestling mats are very convenient in terms of setting up and removing equipment for different sessions. Depending on your school establishment and available storage space for sports equipment, you will be able to select the right wrestling mat from our O'JUMP range.
O'JUMP TRAINING WRESTLING MATS
Wrestling mats designed especially for training are available in several versions to meet the requirements of both sports associations and school establishments. Our training wrestling mats have competition-type marking so that wrestlers can train in real-world conditions. Comprising one or more wrestling zones, O'JUMP wrestling mats are versatile and let you vary your training sessions. Thanks to O'JUMP training wrestling mats, it's possible to have multiple wrestling zones and this reduces waiting time between bouts in training sessions.
COMPETITION WRESTLING WITH O'JUMP
As the official supplier to many national and international competitions including the London 2012 Olympic Games, O'JUMP's competition wrestling mats are now well known among wrestlers. O'JUMP offers competition wrestling mats with the regulatory markings approved by UWW. The competition wrestling mats are designed for high-level use and provide a uniform and dynamic combat area that cushions falls by absorbing shock waves.
Now go explore our range of O'JUMP wrestling mats and we hope you enjoy visiting our O'JUMP website.