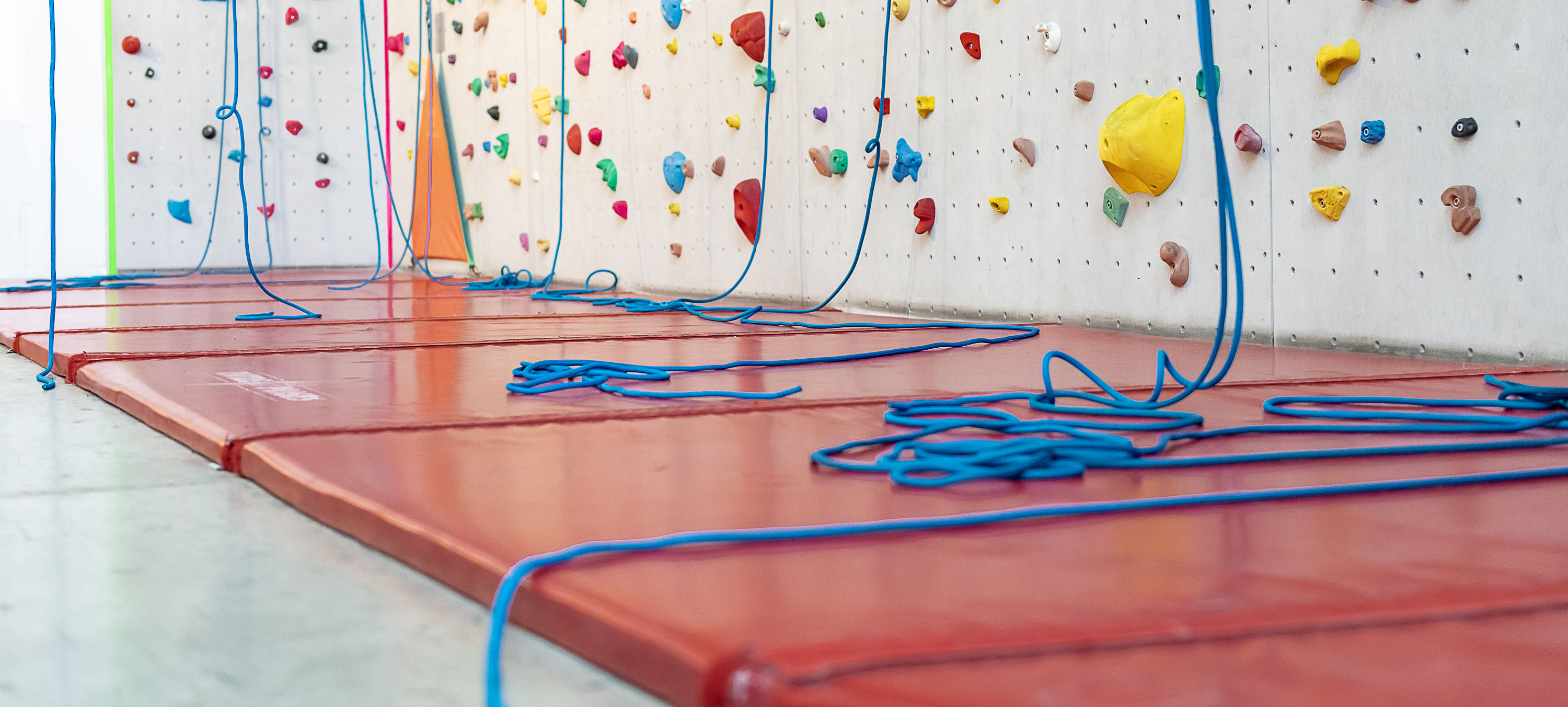 Climbing Mats
CLIMBING
Climbing is a discipline requiring a landing surface suitable for both the spotter and the climber. In climbing rooms, tackling a sequence of wall routes and bouldering are the main disciplines. A specialist in landing areas, O'JUMP has developed a range of climbing mats compliant with NF-P90-311 or NF-P90-312 and suitable for artificial climbing structures and rock rooms. For safer climbing spaces, our mats for ACS and mats for rock rooms have self-gripping joining flaps guaranteeing a perfectly unified landing surface.
MATS FOR INDOOR ROCK ROOMS
Bouldering is a discipline that helps climbers develop endurance and increase finger-strength. The mats are therefore different from those used in ACS and are specific to this practice.
Available in single or double-density foam, O'JUMP mats for rock rooms provide a comfortable landing area for all climbers. In addition, climbing without equipment means that the landing area has to be safe and secure and cushion any falls. Our specialist team therefore ensures that the mat area is appropriate for the room and meets all your requirements.
Lastly, for optimal O'JUMP landing area comfort, it's possible to provide a protective top-cover or overlay carpet for rock room mats. These extend the life of your mats and unify the landing surface in rock rooms.
MATS FOR ACS
Artificial climbing is an activity involving climbing upward along a route to reach the top. It is practised on artificial climbing structures and equipment is required to ensure climber safety.
O'JUMP offers climbing mats especially designed for ACS. These 5.5 cm or 10 cm thick mats provide a landing surface capable of cushioning climber falls while also avoiding an overly high step for the spotter.
As with the rock room mats, the prime objective is to ensure that landing surfaces are safe and secure. In the case of artificial climbing structures, both climber and spotter must be assured of safety on the landing surface. For this reason O'JUMP climbing mats are adapted to meet all your needs and fit any wall type to ensure safety and comfort for those involved.
HOLDING STRAP FOR ACS MATS
In a multi-purpose sports hall, climbing facilities can result in less space for practising other sports. O'JUMP therefore offers holding straps for ACS mats. The holding system stores the climbing mats vertically making it easier to free up ground space for other activities.
CUSTOMISABLE LANDING AREA
It is a priority for O'JUMP that your climbing landing area is perfectly suited to your needs. Our dedicated ACS mats and rock room mats are therefore available in eight different colours.
It is also possible to mark the landing surfaces with your logos. Lastly, for each specific cut requirement, our design department works with you to prepare the necessary plans for the appropriate products.
Now go explore our range of O'JUMP landing surfaces designed specifically for climbing and we hope you enjoy visiting our O'JUMP website.